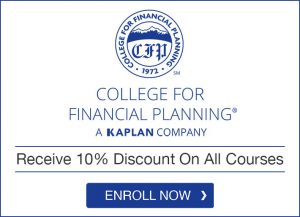 The
College for Financial Planning®
, a Kaplan Company, launches first of its kind SRI and Behavioral Finance designations for advisors. The College for Financial Planning has been a premier provider of financial planning education for over 40 years. Today, the institution continues to innovate with the needs of the industry and offers a variety of stackable professional designation programs and graduate degree programs designed to prepare professionals to create better outcomes for their clients. The College for Financial Planning
, 
a Kaplan Company, aims to empower advisors in their current career stages, while also helping them earn credit towards their next credential. Advisors can leverage tools and resources provided by Kaplan for a variety of Education Programs, including:
The Certified Financial Planner™
or 
CFP® 
certification program can help support your goal of passing the CFP
®
 exam with an industry-leading learning methodology and best-in-class study tools, as well as ethics and CE credits. The 
Accredited Behavioral Finance Professional
SM
  or 
ABFP
SM 
program, is a unique program that enhances advisors' emotional competencies, client interactions, and financial planning advice through a thorough understanding of psychological explanations for economic behavior and hands-on practice of knowledge. The 
Chartered Retirement Planning CounselorSM
 , or 
CRPC®
 program, is a designation program for financial professionals. This program enables experienced advisors, who are focused on retirement planning for individuals, define a "road map to retirement." There is a focus on clients' pre- and post-retirement needs, as well as issues related to asset management and estate planning. The 
Chartered SRI CounselorSM
 , or 
CSRIC®
 program, is a designation program for financial professionals. This program provides experienced financial advisors and investment professionals with a foundation knowledge of the history, definitions, trends, portfolio construction principles, fiduciary responsibilities, and best practices for sustainable, responsible, and impact (SRI) investments.
For exclusive discounts, tools and resources, head here
.