The Future of Longevity Investing
AIR Asset Management is an SEC-registered hedge fund management firm with approximately $700 million in AUM in life settlements, annuities, and private credit investments. The firm has specialized in longevity-linked investing since 2014 and has offered qualified investors the opportunity to access attractive risk-adjusted returns that are largely uncorrelated to traditional asset classes.
Life Settlement Investing
A sought-after alternative for today's investor
The Case for Life Settlement Investments
A Meaningful Investment: Life Settlements
AIR Asset Management's Investment Philosophy
The Advantages of a Multi-Strategy Approach in the Longevity-Based Arena
Panel Video: An Investor's Perspective: Allocating to Life Settlements
Life Settlement Investing Explained
Curious what investing in life settlements is all about? AIR Asset Management has got you covered. Check out our new infographic to learn more about how this once obscure and hard-to-access asset class is now a popular way for RIAs and institutional investors to achieve attractive non-correlated returns.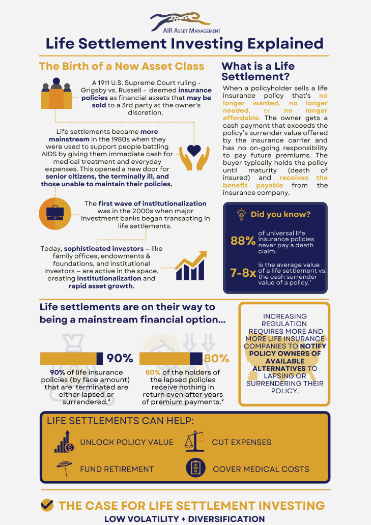 AIR U.S. Life Fund II QP, LP Fact Sheet
PAST PERFORMANCE IS NOT NECESSARILY INDICATIVE OF FUTURE RESULTS. No assurance can be given that any investment will achieve its objectives or avoid losses. Unless apparent from the context all statements herein represent AIR Asset Management's ("AIRAM", "AIR") opinion. This article is provided for guidance and information purposes only. Investments involve risk, and unless otherwise stated, are not guaranteed. Consult with a qualified financial adviser and tax professional before implementing any strategy. This website and information are not intended to provide investment, tax, or legal advice.
AIRAM is a registered investment adviser in Chicago, Illinois. AIRAM may only transact business in those states in which it is registered or qualifies for an exemption or exclusion from registration requirements. AIRAM's website is limited to disseminating general information about its advisory services and access to additional investment-related information, publications, and links. Accordingly, the publication of AIRAM's website on the Internet should not be construed by any consumer and/or prospective client as AIRAM's solicitation to effect or attempt to effect transactions in securities or the rendering of personalized investment advice for compensation over the Internet. Any subsequent, direct communication by AIRAM with a prospective client shall be conducted by a representative that is either registered or qualifies for an exemption or exclusion from registration in the state where the prospective client resides. For information pertaining to the registration status of AIRAM, please contact the state securities regulators for those states where AIRAM maintains a registration filing. A copy of AIRAM's current written disclosure statement discussing AIRAM's business operations, services, and fees is available at the SEC's investment adviser public information website – www.adviserinfo.sec.gov or from AIRAM upon written request. AIRAM does not make any representations or warranties regarding the accuracy, timeliness, suitability, completeness, or relevance of any information prepared by any unaffiliated third party, whether linked to AIRAM's website or incorporated herein and takes no responsibility therefor.