Welcome to Advisor Solutions
In 2006, we pioneered what we believed to be better investments and a better investor experience. Today we're applying that same pioneering spirit to solving advisor challenges—helping you to engage more effectively with clients and prospects, to enhance your team's performance and your leadership skills, to modernize your portfolios to meet the evolving needs of today's investors and retirees, and more.
Empower Yourself

REDEFINE RETIREMENT
Joseph F. Coughlin, leading retirement expert, can help you prepare clients for the realities of today's retirement.
Behind the Markets Blog
Webcast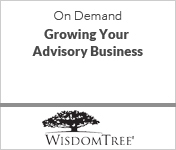 Power Your Business