Active ETFs designed to pursue superior outcomes
Our active ETFs are objective-oriented strategies that offer more choice for our investors along with the full support of Capital Group's extensive resources.
Growth-and-income strategies
Capital Group expands active ETF lineup with 3 new fixed income ETFs
Capital Group PM Pramod Atluri on opportunities in fixed income
Capital Group's Holly Framsted on the benefits of active transparent ETFs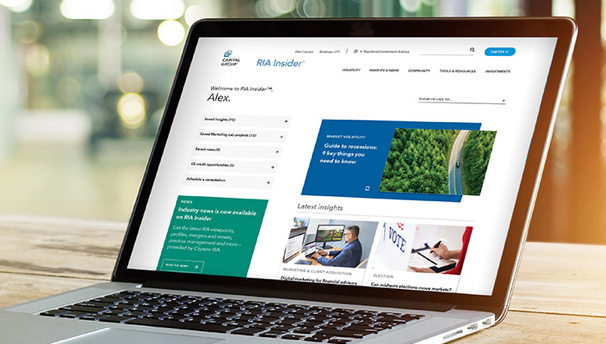 Enjoy curated insights, industry news and a community of peers and thought leaders. Access specialized tools relevant to RIAs, including advisor management platform Truelytics. And boost your brand with Marketing Lab, Capital Group's client-ready publishing tool.
Investments are not FDIC-insured, nor are they deposits of or guaranteed by a bank or any other entity, so they may lose value.
Investors should carefully consider investment objectives, risks, charges and expenses. This and other important information is contained in the fund prospectuses and summary prospectuses, which can be obtained from a financial professional and should be read carefully before investing.
This content, developed by Capital Group, home of American Funds, should not be used as a primary basis for investment decisions and is not intended to serve as impartial investment or fiduciary advice.
Statements attributed to an individual represent the opinions of that individual as of the date published and do not necessarily reflect the opinions of Capital Group or its affiliates. This information is intended to highlight issues and should not be considered advice, an endorsement or a recommendation.
All Capital Group trademarks mentioned are owned by The Capital Group Companies, Inc., an affiliated company or fund. All other company and product names mentioned are the property of their respective companies.
Use of this website is intended for U.S. residents only.
American Funds Distributors, Inc., member FINRA.