Asad Jamil, ETF specialist at Capital Group, joins Julie Cooling, founder & CEO, RIA Channel to discuss the evolution of active ETFs, advisor allocation considerations and opportunities.
Active ETFs harness the power of active management in a tax-efficient ETF wrapper and have attracted a whole new group of advisors and managers to the ETF industry, explains Jamil. Since February 2022, Capital Group has launched nine active ETFs and has gathered roughly $7B in flows. Centered around core asset-allocation building-block strategies, Capital Group is providing our signature active management in the ETF vehicle that some RIAs prefer.
For more insights on this topic: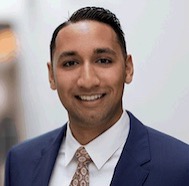 Asad Jamil
ETF Specialist at Capital Group

Asad Jamil is an ETF sales specialist at Capital Group, home of American Funds. He has 10 years of industry experience and has been with Capital Group for one year. Prior to joining Capital, Asad worked as an iShares leader at BlackRock/iShares covering Los Angeles. Before that, he held a variety of sales focused roles at Vanguard. He holds bachelor's degrees in finance and marketing from La Salle University. He also holds the Certified Investment Management Analyst® designation. Asad is based in Miami, Florida.
Investments are not FDIC-insured, nor are they deposits of or guaranteed by a bank or any other entity, so they may lose value.
Investors should carefully consider investment objectives, risks, charges and expenses. This and other important information is contained in the fund prospectuses and summary prospectuses, which can be obtained from a financial professional and should be read carefully before investing.
Statements attributed to an individual represent the opinions of that individual as of the date published and do not necessarily reflect the opinions of Capital Group or its affiliates. This information is intended to highlight issues and should not be considered advice, an endorsement or a recommendation.
All Capital Group trademarks mentioned are owned by The Capital Group Companies, Inc., an affiliated company or fund. All other company and product names mentioned are the property of their respective companies.
American Funds Distributors, Inc., member FINRA.
This content, developed by Capital Group, home of American Funds, should not be used as a primary basis for investment decisions and is not intended to serve as impartial investment or fiduciary advice.
Use of this website is intended for U.S. residents only.