Summary:
Now On Demand.
Advanced batteries have helped charge an energy revolution. From small battery components for portable electronics to a growing number of battery-powered electric vehicles (EVs) and even large grid-scale energy storage solutions, the increased penetration of battery applications is evident on a global scale.
This energy revolution has created attractive investment opportunities across the entire supply chain, but most notably amongst the raw materials used in lithium-ion battery production and the companies who produce these commodities, which are collectively known as advanced battery metals and materials and include LITHIUM, COBALT, NICKEL, MANGANESE, GRAPHITE and others.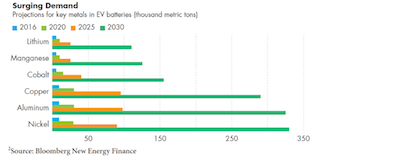 Join us as we discuss a new way to invest in this key group of metals through the Amplify Advanced Battery Metals and Materials ETF (NYSE Arca: BATT). BATT is a professionally managed ETF comprised of companies engaged in the business of mining, exploration, production or recycling of these advanced battery metals. We will discuss:
What are Advanced Battery Metals?

The Macro Investment Case for Battery Metals

Overview of BATT ETF

The Portfolio Management Process Behind BATT
Sponsors of this webcast may contact registrants. This webcast is for financial professionals only.
Speakers:
Christian Magoon


Founder & CEO
Amplify ETFs
An ETF veteran, Christian has launched over 60 ETFs in the United States to date. He has helped drive the adoption of ETFs by U.S. investors through numerous educational efforts highlighting the efficiency, transparency and flexibility of the ETF vehicle. Christian has been behind many first-to-market ETFs including the first cybersecurity, online retail, frontier market, spinoff, solar energy, multi-asset income and blockchain-focused ETFs. Prior to founding Amplify, Christian served as President of US-based asset manager Claymore Securities.
Amplify ETFs, sponsored by Amplify Investments, has over $850 million in assets across seven ETFs for which it is Adviser or Sub-Adviser (as of 6/15/2018). The launch of BATT is consistent with Amplify's value proposition to bring first-to-market products across growth and income segments.
Michael Venuto


Co-Founder & CIO
Toroso Investments, LLC
Michael Venuto is an ETF industry veteran with over a decade of experience in the design and implementation of ETF-based investment strategies. Michael is the lead portfolio manager for BATT. Previously, he was Head of Investments at Global X Funds where he provided portfolio optimization services to institutional clients. Before that, he was Senior Vice President at Horizon Kinetics where his responsibilities included new business development, investment strategy, Fintech private equity and strategic initiatives.
Overview:
Title:

Powering an Energy Revolution: The Investment Case for Advanced Battery Metals & Materials
Date:

Thursday, June 28, 2018
Time:

1:00 PM Eastern Daylight Time
Duration:

1 hour
Register Now:
Already Registered?
For Registered Investment Professionals Only.
Not for Public Distribution
For the Amplify Advanced Battery Metals and Materials ETF prospectus click here
Read the prospectus carefully before investing.
Investing involves risk, including the possible loss of principal. The Fund is subject to management risk because it is actively managed. Shares of any ETF are bought and sold at market price (not NAV), may trade at a discount or premium to NAV and are not individually redeemed from the Fund. Narrowly focused investments typically exhibit higher volatility. A portfolio concentrated in a single industry, such as advance battery metals and materials, makes it vulnerable to factors affecting the companies. The Fund may face more risks than if it were diversified broadly over numerous industries or sectors. The Fund has become more susceptible to potential operational risks through breaches in cyber security. The Fund will invest in securities that are issued by and/or have exposure to, companies primarily involved in the metals and mining industry. Investments in metals and mining companies may be speculative and subject to greater price volatility than investments in other types of companies. The exploration and development of metals involves significant financial risks over a significant period of time, which even a combination of careful evaluation, experience and knowledge may not eliminate. Rare earth metals have more specialized uses and are often more difficult to extract. The increased demand for these metals has strained supply, which could adversely affect the companies in the Fund's portfolio. Some of the companies in which the Fund will invest are engaged in other lines of business unrelated to the mining, refining and/or manufacturing of metals and these lines of business could adversely affect their operating results. The Fund's assets will be concentrated in the materials sector, which means the Fund will be more affected by the performance of the materials sector than a fund that is more diversified. The Fund currently has fewer assets than larger funds, and like other relatively new funds, large inflows and outflows may impact the Fund's market exposure for limited periods of time. The Fund will invest in the securities of non-U.S. companies. Investments in emerging market issuers are subject to a greater risk of loss than investments in issuers located or operating in more developed markets. The mining, refining and/or manufacturing of metals may be significantly affected by regulatory action and changes in governments. Small and/or mid-capitalization companies may be more vulnerable to adverse general market or economic developments.
Amplify Investments LLC is the Investment Adviser to the Fund, and Toroso Investments, LLC and Exponential ETFs serve as the Investment Sub-Advisers.
Amplify ETFs are distributed by Quasar Distributors LLC.