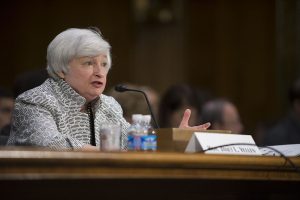 Money managers will be keen to hear what Fed Chairwoman Janet Yellen has to say this week. She will talk to Congress on Tuesday and again on Wednesday to discuss her thoughts on monetary policy. For now, the base case is for three rate hikes of 25 basis points, but some investment firms have whispered to us that three could easily become one.
That case is a tough sell. The Dow is racing over 20,000. Unemployment is stable to declining. Oil prices are rising thanks to OPEC adhering to production cuts, so inflation will see an uptick as a result. China is stable to improving. The global growth cycle is fair to good, with the only country in the hemisphere that looks lame this year being Venezuela.
Yellen is likely to stick to the script, which says three hikes are due.  She might highlight potential inflation risks associated with fiscal reflation, something she says is unnecessary. That won't fly. Remember that this week Trump promised corporate America something "phenomenal"  in terms of tax cuts. Yellen still has another year in office.
The Fed futures market gives a 38% probability of a rate hike next month.
The March 15 monetary policy committee meeting just so happens to be on the same day that the U.S. debt ceiling expires. There are also elections in The Netherlands where — as the Financial Times put it last week there is the real possibility of an upset, with Geert Wilders' populist party winning most seats in the parliament. This could be a headwind that pushes the pause button at the FOMC, much like they did in September 2015 after China's one-off currency devaluation a month earlier.
Also worth noting, foreign investors now hold less than 30% of the roughly $20 trillion Treasury market. It hasn't been that low in percentage terms since 2009. For fixed income buyers, the 10-year TIP yields are rising and looking decent for retirees.  If inflation goes over 2%, a TIP yield of 1% means the 10-year nominal Treasury yield should be just over 3%.