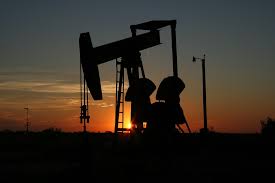 Piper Jaffray's technical strategist, Craig Johnson, just told CNBC that oil has bottomed out. From a technical standpoint, the chart watchers over at Piper think it is oversold both from a relative strength indicator and from money flow indicators as well.
"It's due for a pretty healthy bounce," Johnson said. He thinks oil can go to $55 in the medium term.
If you believe that oil has bottomed, then a round-about way of playing it without getting into the leveraged plays on oil oil and gas drillers like ProShares Ultra Oil and Gas ([stock_quote symbol="DIG" show="symbol"]) or the iPath S&P GSCI Crude Oil ([stock_quote symbol="OIL" show="symbol"]) fund, may be the Middle East oil mavericks. Or Russia. Russia is facing geopolitical risk that could weigh on sentiment. But Saudi Arabia ([stock_quote symbol="KSA" show="symbol"]), Kuwait, United Arab Emirates ([stock_quote symbol="UAE" show="symbol"]), Qatar ([stock_quote symbol="QAT" show="symbol"]) and Oman are not the ways in. UAE and QAT are the most popular Gulf retail trades, while the others are more geared towards frontier market fund managers with brokers on the ground in those countries. UAE and QAT have beat OIL year-to-date. Only KSA is in the red this year, but not as much as the OIL fund.
FIS Group, one of the largest frontier market investment funds, thinks investing in the Gulf states based on an oil rebound wouldn't be prudent.
"Though the market may rebound some this year on par with oil prices, valuations are un-compelling and we don't see an oil price rebound sufficient to ignite meaningful growth or improved earnings across the markets," FIS Group analysts led by fund manager Tina Byles Williams says. Underweight these markets vs. oil.
"There will be some great opportunities for niche managers to find fallen angels and deep value asset plays at fire-sale prices across the region, but there is no beta here worth buying anytime soon," Williams says.
See FIS Group's report Big Winners in the Neglected Frontier Universe.