To read the the more about IBUY, click here to see our follow up coverage.
Cyber Monday 2016 is expected to exceed every other retail sales day in history. IBUY is a global, equal-weighted ETF that invests in online, retail sales firms. Top holdings include Etsy (ETSY), an e-commerce website focused on handmade novelties, GrubHub (GRUB), Netflix (NFLX), and Blue Nile (NILE), the largest online diamond retailer.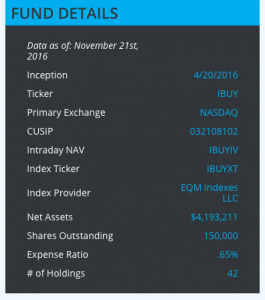 With an anticipated $3.36 billion in sales growing over 9.4% over last year, Cyber Monday is expected to be a day of earnings for online retailers (9). IBUY is an international fund that tracks an index of global stocks issued by firms with revenue that consists mostly of online retail sales. The fund holds stock in firms with at least 70% of their revenues from online sales, including Amazon, the powerhouse of online retail. IBUY is intended to result in a portfolio that has the potential for capital appreciation. The fund's YTD as of November 2, 2016 was $26.48, up by more than 3% since January.
Recently, the consumer discretionary sector reflects a grey area of rising wages while still consumers remain cautious as a result of the Great Recession in 2008. While consumers have reduced their debt loads and the job market continues to improve, the Bureau of Labor Statistics also reports that the average hourly earnings have risen 2.46% over the past year. Yet consumer's willingness to take on consumer debt has diminished. It is anticipated that the consumer discretionary sector's performance will settle as the holiday season approaches (11).
However, reports still suggest continued confidence in consumers as a result of steady job markets as well as low gas prices and interest rates in the U.S. market (10). This is good news for retail companies during the peak of holiday season as they anticipate an increase in sales. Last year Apple, J.C. Penney, and Macy's all came out winners after the 2015 holiday season with an increase in sales. However, other popular retailers such as Gap were not as lucky reporting a 5% decline in December of 2015 after predicting only a 3.9% deficit (8).
Earlier this year, the future of online retail did not seem bright for many companies including Nordstrom's, Kohl's, J.C. Penney, and Dillard's who all posted significant losses. Luxury retailers such as Michael Kors and Ralph Lauren also traded lower (6). Regardless of the numbers posted earlier this year, the U.S. e-commerce sales growth continues to outpace stores. In Q2 2016, online sales grew faster than it has in 2 years representing 10.9% of total retail sales (8). According to a research report from BloomReach Corp., 46% of U.K. consumers and 47% of U.S. consumers said that they had planned to check Amazon for 50% of more their purchases for the 2015 holiday season (3).
Alibaba, a Chinese e-commerce company, closed down 2.61% on the NYSE after posting high earnings and revenue beyond analysts expectations in early November. So, what does this mean for the rest of the online retail market? (6) The National Retail Federation expects retail sales to increase to 3.6%, amounting to $655.8 billion for the 2016 holiday season. Online sales are anticipated to increase between 7-10% over last year to amount to as much as $117 billion (1).

SOURCES
(1) https://nrf.com/resources/consumer-data/holiday-headquarters
(2) http://fortune.com/2016/09/27/ecommerce-sites-holiday-season/
(3) http://www.signal.co/blog/2016-holiday-trends/
(4) http://www.mobilenapps.com/articles/21086/20161101/cyber-monday-2016-predictions-deals.htm
(5) http://centriotimes.com/2016/11/black-friday-2016-sales-cyber-monday-likely-to-eclipse-pre-black-friday-thanksgiving-day-revenue.html
(6) http://www.cnbc.com/2016/11/02/alibaba-news-sec-probe-weighs-on-stock-after-strong-earnings-result.html
(7) https://www.internetretailer.com/trends/sales/
(8) http://losspreventionmedia.com/insider/retail-industry/who-won-and-lost-the-holiday-season-for-the-retail-industry/
(9) http://www.i4u.com/2016/10/116762/cyber-monday-2016-predicted-biggest-online-shopping-day-wiht-336-billion
(10) http://etfdailynews.com/2016/10/12/are-retail-etfs-a-buy-heading-into-the-holiday-season/
(11) http://www.schwab.com/public/schwab/nn/articles/Consumer-discretionary-sector