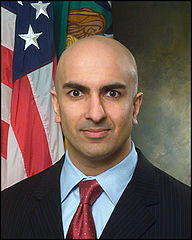 Might the Federal Reserve take a pass on a rate hike in March? Neel Kashkari thinks so. The Minneapolis Fed president says he will vote against raising interest rates next month. Here are his thoughts.
After market hours on Tuesday, New Jersey based investment research firm, Bretton Woods Research warned that Kashkari's comments stand in total contrast to the hawkish pronouncements by Fed officials, including Patrick Harker who is telling the market that, yes, more hikes are coming. Investors may want to count on that one.
Still, BWR says in a note to clients that Kashkari's case is "the strongest case for further monetary policy accommodation we've seen in a long time."  His comments could catch on, possibly giving pause to those who believe three rate increases are inevitable in 2017. His argument is strong enough to suggest that the Fed may be more data-dependent than just looking at inflation and the dollar.  The Fed could ultimately move surprisingly slow on rate hikes, especially if congress does not act fast enough on corporate tax cuts and infrastructure spending, in particular. Regulation rollbacks and a reduction to the C-Corp rate have been two of the biggest drivers to Dow 20,000. If that stalls out, it could impact the physical economy in a worse case scenario.