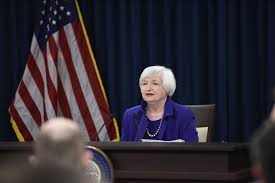 The markets are less sure about the Fed hiking rates three times for a total of 75 basis points this year. A month ago, that was a sure thing. What has changed?
The Economic Surprise Index is down to a new low and indicates that actual hard data has not impressed beyond a relatively solid earnings season. Industrial production data showed a 1% monthly gain, but that is 1.4% below the November 2014 high if you're contrarian and want to get picky about it. Housing starts have been soft but the percentage of loan foreclosure is very low.
Doubts can be seen in bond prices and inflation. The 10-year breakeven inflation rate dropped to a 6-month low this week. Both market-based and consumer survey measures of inflation expectations have been declining, and the latest inflation data showed a modest dip.
"This backdrop injects some uncertainty over the Fed's expectation of a second quarter rebound in economic activity," says Neil MacKinnon, an economist with VTB Bank in London.
Sentiment has deteriorated somewhat as political controversies surrounding President Trump and the constant barrage of negative headlines out of Washington has some wondering if he will last four years. Water cooler chatter on Wall Street is that if Trump goes, Dow 20k is history. The dollar is back to pre-election levels, but that is more due to an overshoot than lack of confidence. Investors are also putting money to work overseas, especially in Europe, which has seen major inflows over the last two months based on EPFR Global fund tracking data.
Lastly, the fiscal stimulus investors were counting on seems unlikely this year.
Libor rates out to 12 months have recently dipped lower and 2-year Treasury yields are testing the 50 day moving average at 1.27%.
Equity markets aren't particularly fazed by all of this, says MacKinnon. There are indicators that the super-low levels of VIX volatility might not last. On the plus side, earnings growth has been picking up and is on track to reach 16.5% in the first quarter, the best growth since 2011.