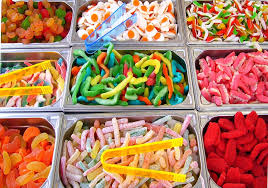 June is National Candy Month, a time to harken back to our younger years when we could mow down on a box of cracker jacks, and chase it with a Kit-Kat. San Diego-based advisor, Brent Wilsey of Wilsey Asset Management, says sugar is sweet but these stocks are not.
Stay away from these four companies, he says. Here's why:
Hershey (HSY 106.04 +0.14 +0.13%): The company owns candy brands Reese's, Jolly Rancher, Kit Kat and Twizzlers, not to mention Hershey Kisses. These are strong names in the candy business, but the valuation ratios look weak, Wilsey says. Why? Take a look at their current price to earnings multiple. It's 48.9x, nearly double the industry average of 25.7. Price to sales is 3.2x, well above the industry average of 1.3x. Finally, price to cash flow is a high 27.4x, besting the industry average of 15.8x. For this, investors only get a dividend of 2.1%, even with a high payout ratio.
"The balance sheet is off to an alright start…but debt to equity is 341.97%," he says. "It's frightening."
Mondelez International, Inc. (MDLZ 44.19 +0.33 +0.75%): Not a household name, but its products are. They own Oreo cookies, Toblerone, Cadbury, Trident gum, and Halls, which in some countries is more candy than cough drop.
Like Hershey, Wilsey is bearish because of valuation. The current P/E of 41.8x is far above the industry average of 25.7x. Price to sales of 2.7x is above the industry average and price to cash flow is 31x, nearly double the industry average.
Moreover, sales have declined 8.6%, while the industry average has increased by 1% during the same time frame. "This is a negative," he says. "We like to see a company's sales grow faster than the industry average."
General Mills (GIS 57.53 +0.22 +0.38%): It's not just for breakfast anymore. They own Fruit by the Foot, Gushers, Fruit Roll-Ups, and many other fruity snack treats. They're cheaper than the first two plays and their price to sales ratio is only barely above the industry average of 1.3x. Plus they pay a decent dividend of 3.4% currently. The problem is that, like Hershey, it uses a lot of its earnings to pay that dividend; roughly 70% of it. "The balance sheet is very weak," says Wilsey.
Lastly, stay away from…
PepsiCo Inc. (PEP 119.10 +0.13 +0.11%): Pepsi owns Frito Lay, which owns Cracker Jacks, which we can lump into the candy aisle for the sake of argument. Their valuations do compare favorably to the industry average, but the company's sales growth over the last 12 months is minimal at just 0.5%. Earnings per share have grown nicely at 32.4% during the same time frame, but debt is a problem and that makes Pepsi a dud.
Of the four stocks Wilsey thinks investors should avoid, only General Mills is down year to date. Both Pepsi and Hershey are outperforming the S&P 500 and the Dow.