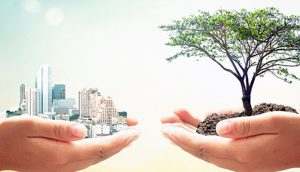 Environmental, Social and Governance funds, known as ESG, may not be the easiest type of fund to identify. But for investors who want to put their money to work in companies that don't pollute rivers, have good corporate governance, and treat their workers right, then this is the product line for them. ESG funds have seen assets under management rise 33% to around $8.7 trillion, according to the annual report by the U.S. Forum for Sustainable and Responsible Investment (US/SIF).
The U.S. had some $40 trillion in assets under management in 2016.
As of last year, there were 1,002 funds offering ESG strategies, most of them mutual funds. Within the universe of ESG, the E is where most of the money goes. US/SIF says that $1.42 trillion was invested in companies that are related to reducing their carbon footprints, or are seen as being good stewards of the planet. Think Tesla for instance, or Toyota, the manufacturers of America's No. 1 hybrid automobile, the Prius.
Many investors use their positions in ESG funds to take a more active approach in influencing board decisions on social and environmental causes.
The $250 report titled "U.S. Sustainable, Responsible and Impact Investing Trends 2016" said $2.56 trillion in assets were held by 225 institutional investors or activist money managers that filed or co-filed shareholder resolutions on ESG issues from 2014 through 2016. The SIF said in their report that the growth in ESG investing reflects several factors, including growing market penetration of socially responsible investing products, the development of new products that incorporate ESG criteria and the incorporation of ESG criteria by numerous large asset managers across wider portions of their holdings.
There's a cleaner, greener way to invest in broad U.S. equities.
The iShares MSCI USA ESG Select ([stock_quote symbol="KLD" show="symbol"]) ETF is tightly correlated with the S&P 500, making it a near-perfect alternative investment for those who want to follow the S&P, but want to reward companies that match their values. For instance, KLD is up 5.9% year-to-date while State Street's SPDR S&P 500 ([stock_quote symbol="SPY" show="symbol"]) is up 5.7%. Over the last 12 months, KLD is up 23% while SPY is up 22%. And over the last 10 years, KLD is up 62.07% while SPY is up 62.7%.
The MSCI USA ESG Select's top five holdings are 3M, Microsoft, Apple, Ecolab, and outsourcing firm Accenture.
RIA Channel is hosting a virtual event focusing on ESG investing on March 15, called Invest4Impact. The free, online conference for financial advisors is available for CFP and CIMA CE credits. REGISTER NOW.