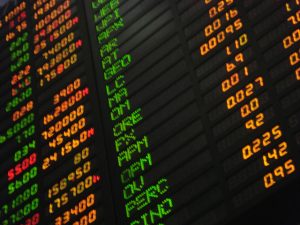 After five straight years of underperformance, commodities are staging a comeback. But here's a note to investors that tend to buy the big indexes like the S&P Goldman Sachs Commodities Index (GSG 14.02 -0.10 -0.71%) fund: it's loaded with over 60% energy futures. What if investors could stay in a commodity fund, but protect from draw downs in the market by going into cash when things like energy go south?
That's the thinking of Alberta, Canada-based investment firm Auspice Capital. They teamed up with Direxion, the tripled levered ETF guys up in Massachusetts, to build a mutual fund that takes what they call a long/flat approach to commodity investing.
"If you're going into commodities, they're too volatile to support a long short approach. We feel a long flat approach using cash enables you to have a more buy and hold strategy," says Direxion's head of alternative investing, Ed Egilinksy.
Direxion and Auspice hosted a webinar on March 8 where they gave their outlook for commodities this year, and took surveys on advisor views on the asset class. The webinar was available for CFP and IMCA credit. WATCH THE REPLAY NOW.
Egilinsky thinks that shorting commodities has very little upside long term, especially in a broader commodity portfolio.
The different types of commodities are not even close to being correlated.
In 2007, wheat futures rose 76% while another agriculture commodity, sugar, fell 7.9%. In 2016, sugar fell 25% and wheat rose 37.4%. Copper fell 30.4% in 2015 and soybeans rose 4.9%.  The only commodities that tend to be each other's alpha and omega are oil and gas, and gold and silver.
Most people are buying commodities for the upside and the cash position helps them mitigate the downside, Auspice believes. Their own indexes are less weighted towards energy than the Bloomberg Commodity Index and the S&P GSCI by roughly 10 percentage points.
Their Auspice Broad Commodity Index can be traded through the Morningstar five star rated Direxion Index Commodity Strategy mutual fund ((DXCTX 13.70 -0.07 -0.51%), (DXSCX 13.00 -0.07 -0.54%) and (DXCIX 13.94 -0.07 -0.50%); Bloomberg Index (ABCERI 2,820.76 +14.01 +0.50%)). They'll launch an exchange traded fund based on this strategy later this year. No launch date has been set.
The mutual fund's class A shares are up 7.16% year-to-date.
Webinar attendees were asked what they planned on doing this year with their clients commodity holdings: 37% said their holdings would remain the same while 32% said they were increasing their positions. Some 75% of advisors said they bought commodities for diversification purposes. When asked which commodities will outperform the benchmark this year, 33.7% said metals and 29.5% said energy, though Auspice's president and CIO Tim Pickering seemed a bit more bearish on the metals sector overall.
"I'm excited about commodities," Pickering says. "It got topical again in 2016, but the recent round started in the fourth quarter of 2015 and that is when our strategy started seeing more results after many years of a downturn. That's when we started putting our cash into long positions in the market."
For Egilinsky, commodities should constitute 10% of a portfolio to have a meaningful impact on a client's investments.