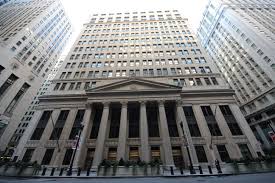 In exactly four weeks, the Fed will raise rates. Right?
Naeem Aslam, chief market strategist for ThinkMarkets in London, believes the Fed wants clearer information on Trump's fiscal plans.  Janet Yellen, Fed chairwoman, has already gone on record saying she doesn't think the economy needs fiscal relief.  Although that could mean any number of things, one assumes she does not mean changes to the C-Corp rate, one of the highest corporate tax rates in the developed world. At least some of the reflation story in the markets today is based on expectations of corporate tax cuts. This is a buy the rumor, sell the news market if there ever was one. If there is no fiscal policy shift, this market goes south.
"We still have no details about those 'phenomenal' tax plans and we are not even sure if we are going to get further clarity on that before March," says Aslam, adding that this could actually put a  lid on rate hike expectations regardless of the economic data. Consensus is three hikes for 2017.
Two important economic readings due today – U.S. retail sales and CPI — should give investors an idea of whether or not to build on a contrarian view of 2017 rate hikes.
Wednesday marks Yellen's final day of congressional testimony; this time in front of the House Financial Services Committee. On Tuesday, Yellen spoke about the strength of the economy, a "fully employed" job market, and warned about waiting too long to raise rates.  All of this pretty much assures us of a March rate hike. But when pressed by the Senate to give a time and date with respect to the next rate hike, Yellen did precisely what she was supposed to do and said that was for the FOMC to decide in March.