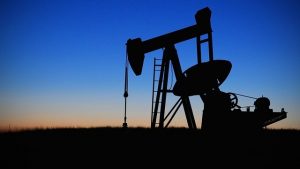 Investors who believed inflation would help commodities and put some of their client's money into funds tracking the Goldman Sachs Commodity Index have been left scratching their heads. The Goldman Sachs Commodity Index ([stock_quote symbol="GSG" show="symbol"]) ETF is down 1.65% year-to-date. The PowerShares Agriculture Fund ([stock_quote symbol="DBA" show="symbol"]) is not keeping up with the Dow, up just 2.9% or 100 basis points below the DJIA. It looks like we can lay the blame on this performance on oil and gas futures.
Oil prices have remained range-bound as investors are waiting to see what U.S. shale drillers do now that OPEC and Russia are cutting back on production. Last Friday, the International Energy Agency gave markets a bullish look at oil going forward and yet oil futures are flat. ProShares Ultra Oil & Gas ([stock_quote symbol="DIG" show="symbol"]) is down 10.12% this year as of Friday.
Oil's future will pressure broad-based commodity funds. Barclays warned in a report published today that oil "remains poised for a downward correction due to weakening margins in the U.S. and resilient OPEC" and Russia supply. Oil prices are also hurting Russia. Last year, Van Eck Global's two Russia ETFs were top performers and as of today their large cap Market Vectors Russia ([stock_quote symbol="NYSEARCA: RSX" show="symbol"]) fund is in the tank, down 0.16% while the MSCI Emerging Markets Index is up over 9%. It's not all due to profit taking. Lackluster oil prices are hurting that asset this year.
This tight range won't hold. Barclays forecasts oil to go to $60 in the second quarter as summer approaches. They also see an inventory drawdown of roughly 500,000 barrels per day throughout the first half the year, helping the supply and demand equation ahead of Memorial Day weekend. Investors shouldn't get carried away with oil securities, however, because oil prices are expected to top out around $62. New supply from U.S. shale will come to town in the second half of the year. IEA data shows inventories are building here in the U.S. This may be a short-term position, unless investors are of the mind that longer term pricing brings oil back to the $80s.
"The current and expected weakness in these markets as temporary before more bullish fundamentals take prices higher," says Barclays commodities research analysts led by Michael Cohen. "Despite short-term weakness, inventory levels of oil and gas continue to normalize after last year's surplus and we retain our bullish stance on both."