Pramod Atluri, fixed income portfolio manager at Capital Group, joins Julie Cooling, founder & CEO, RIA Channel to discuss the shifting fixed income landscape, investment opportunities and allocation considerations. 

Persistent inflation and rising rates have led to a challenging fixed income market for investors. The balanced portfolio, which has historically relied on the fixed income component to provide diversification and downside protection, has delivered little relief. While Atluri expects sustained inflation and volatility in fixed income markets to continue into 2023, he sees a lot of opportunity in the next five to 10 years once rising rates and inflation taper off. "Yields are much higher and risky asset prices have become much more attractive," says Atluri. 

For more insights on this topic:



Fixed income insights at Capital Group

RIA Insider™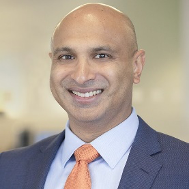 Pramod Atluri
Fixed Income Portfolio Manager at Capital Group

Pramod Atluri is a fixed income portfolio manager at Capital Group. He has 23 years of investment industry experience and has been with Capital Group for six years. Prior to joining Capital, Pramod was a fixed income portfolio manager at Fidelity Investments, where he also worked as a fixed income strategist and corporate bond analyst. Before that, he was a management consultant at McKinsey & Company. He holds an MBA from Harvard Business School and a bachelor's degree in biological chemistry from the University of Chicago, where he also completed the requirements for bachelor's degrees in economics and chemistry. He holds the Chartered Financial Analyst® designation. Pramod is based in Los Angeles.


Investments are not FDIC-insured, nor are they deposits of or guaranteed by a bank or any other entity, so they may lose value.

Investors should carefully consider investment objectives, risks, charges and expenses. This and other important information is contained in the fund prospectuses and summary prospectuses, which can be obtained from a financial professional and should be read carefully before investing.

Statements attributed to an individual represent the opinions of that individual as of the date published and do not necessarily reflect the opinions of Capital Group or its affiliates. This information is intended to highlight issues and should not be considered advice, an endorsement or a recommendation.

All Capital Group trademarks mentioned are owned by The Capital Group Companies, Inc., an affiliated company or fund. All other company and product names mentioned are the property of their respective companies.

American Funds Distributors, Inc., member FINRA.

This content, developed by Capital Group, home of American Funds, should not be used as a primary basis for investment decisions and is not intended to serve as impartial investment or fiduciary advice.

Use of this website is intended for U.S. residents only.