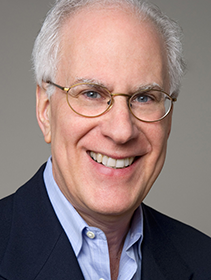 So you think the market is toppish, right? Think again. The reason the Dow is a runaway train is because institutional money is pouring in, says Marc Chaikin, founder of Chaikin Analytics, a proprietary investment analysis firm.  Chaikin headlined the "Building ETF Portfolios to Generate Alpha" webcast on Wednesday. It is available for replay on the RIA Channel: WATCH NOW.
"Is the market toppy? On a short term basis, yes," says the 40-plus years investing veteran. But most of the time the market goes again up even after a 25% gain. "Historical patterns support the notion that the markets are going to move higher for the rest of 2017," he says.
An online poll by webinar participants listed a toppish market as their number one concern currently, with 61.8% saying so. Rising interest rates was a distant second with 21%.
The Dow rose over 21,100 on Wednesday, the day after President Trump delivered his speech to congress.
Since 1945, there's been 75 stock market declines of 5%-10% and all of those declines were followed by new highs. "These corrections are your friend," Chaikin says. How about declines of 20% or more? There were 11 of them; not that many. That means, "if you're waiting for big bear markets to get in you're missing major opportunities."
Chaikin says that, based on his analytics across sectors and the broad based index ETFs, RIAs need to focus on corporate earnings, Fed rates, and sector rotation. At Chaikin Analytics, it's all systems go for the SPDR S&P 500 ([stock_quote symbol="SPY" show="symbol"]) fund.
"People are calling this a Trump bull market, but I think they are wrong," he says. "This is an earnings bull market aided by stronger numbers coming out of Europe and Asia."
Chaikin's webinar was a chance for him to showcase his platform: a tool for investors to screen ETFs, and individual stocks. It also gives investors a better look at why ETFs are performing so well when fundamentals indicate that should not be the case.
He used the SPDR Consumer Select ([stock_quote symbol="XLP" show="symbol"]) as an example. It's been on a tear lately, closely tracking the SPY. Chaikin says the move is all because of Procter & Gamble ([stock_quote symbol="PG" show="symbol"]), outperforming the market thanks to an activist investor. When that investor changes his mind on PG, there goes XLP.
"If you look at the stocks in the XLP, Monster Beverage ([stock_quote symbol="MNST" show="symbol"]) indicators turned bearish in August and it has been dead money since. Coty Inc. ([stock_quote symbol="COTY" show="symbol"]) on our power gauge turned bearish in May and it keeps making new lows," he says.
The most recent creation at Chaikin is an idea engine they've bundled into their product. This gives investors a better sense of comparable stocks. So if a client is holding Under Armour ([stock_quote symbol="UAA" show="symbol"]) — a bomb all year — advisors can find better comparable stocks to buy.
Chaikin's system turned bearish on Under Armour and have had sell signals on the stock for the past two weeks. The sell-off was already underway and persists today. Under the Chaikin platform, the stock discovery engine takes money managers to similar sector plays. For Under Armour, Chaikin came up with better options like Royal Caribbean ([stock_quote symbol="RCL" show="symbol"]). RCL is up 19% this year, beating the XLP ETF.
"Our ratings are like a Chevrolet with a Ferrari under the hood," he says. "It can be a GPS during earnings season because a lot of investors get nervous about their holdings then. We can gauge in our models what companies are likely to beat," he says. "No matter how good your fundamental research is, if the market disagrees with you then that's dead money. The power gauge does the heavy lifting for you," he says of his platform tools.
Well-known economist John Mauldin, founder of Mauldin Economics, says he uses Chaikin Analytics regularly.
The product costs $1,950 for an annual subscription. RIA Channel webcast attendees are given a $300 discount good until March 4. Use this link for the discount.