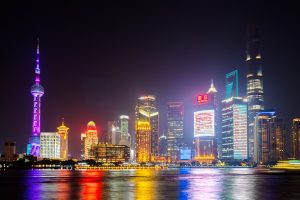 If you think the U.S. equity market is getting expensive, and if you're of the mind that the White House is beating up on a few emerging markets (hello, China and Mexico), then it may be time to look outside of the United States.
BlackRock's([stock_quote symbol="BLK" show="symbol"]) emerging market fund managers have been building on their positions in Mexico and Russia.  America-centric investment advisors are paying an opportunity cost if they stay home instead of buying low.
For starters:
China is not going to crash land. Forget the hard landing narrative. It's over. It happened probably back in 2015 when everyone and their brother in mainland China was betting on an A-shares inclusion in the MSCI Emerging Markets index.  The market collapsed when the MSCI said no thanks. The naysayers patted themselves on the back. The Deutsche X-Trackers CSI 300 China A-Shares (ASHR)[stock_quote symbol="ASHR" show="symbol"] ETF never recovered. But BlackRock thinks China has value. It will also continue to have a major impact on emerging markets following three years of Chinese underperformance that have taken valuations to multi-year lows for Chinese stocks, many of them traded on the NYSE.
Bottom feeders everywhere.  Private equity and distressed asset investors are going into emerging markets, poking around, and finding flea markets all over the place. Low valuations could act as a tailwind for performance, BlackRock says. Although there have been high inflows year-to-date (especially to Russia), there is still a long way to go to recover the outflows from emerging markets incurred from the May 2013 "Taper Tantrum."
Dollar peaking? Currencies in most emerging markets have depreciated over the past three years. Russia's ruble has gone from around 70 to 1 to 58 to 1. The Brazilian real was 4 to 1 and now is closer to 3. The peso remains woefully undervalued in BlackRock's view.  The weaker currencies have contributed to a macroeconomic rebalance in most countries.
BlackRock's five star Morningstar rated Total Emerging Markets (BEEIX)[stock_quote symbol="BEEIX" show="symbol"] balance fund is up 6.37% year-to-date.