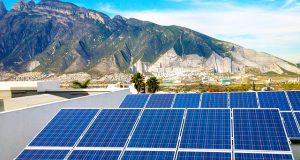 Face it, every other week Sungevity or some solar energy firm is calling you telling you how they can lower your electric bill. Solar panels are everywhere! Along comes Donald Trump. Supposedly he's not a fan of the environment. He likes coal ("clean, beautiful coal"), and probably doesn't like solar panels, because most of them are made in China.
Freeman Ford, CEO of FAFCO, a Chico, Calif. manufacturer of solar thermal products knows what a president can do to the industry at the stroke of a pen. President Jimmy Carter declared the energy crisis of 1973 "the moral equivalent of war" and put solar panels on the White House as one solution. An industry was born. Then came Ronald Reagan. He took them off the roof. (Clinton and Obama didn't put them back.) Reagan also ended incentives for solar and upended an entire industry.
"Solar sales went from about $800 milllion to $20 million per year, and four hundred manufacturers were reduced to about five," Ford tells us. "We were one of the survivors."
When asked if Trump might do away with some of the Obama-era incentives for solar electricity, Ford didn't dare make a prediction. It's safe to say the industry is crossing its fingers and preferring to look on…the sunny side of life.
Presidents Bush and Obama were consistent in supporting renewable energy and increasing domestic sources of fossil fuels.  President Trump also wants to increase or at least maintain domestic sources of energy. The problem is that solar panels on houses today are mostly made in China. This could be the industry's Achilles heel. The solar industry employs an estimated 275,000 people, so if Trump is serious about middle income jobs, he may not want to pull a Reagan and destroy this market.
According to an October Pew Research Center poll, a whopping 89% of Americans support solar energy. "I think the solar train has left the station," Ford says.
Utilities have been induced to buy solar power through state mandated programs.  Demand for distributed solar has been stimulated by very favorable state generated net energy metering programs and a 30% federal investment tax credit.  The result of all of these government incentives is to dramatically reduce the cost of solar electric to the point where it is reaching parity with power produced by the grid in a growing number of locations in the United States, especially where electric bills are high due to air conditioning.
FAFCO, which is privately held, has technology to store solar energy as well and use it for later. They are working with Korean investors to produce and store power for heating homes and hot water in a mid-sized town in Korea. Their CoolPV solar thermal unit is forecast by them to reach $5.6 million in sales this year, up from $570,000 last year, thanks largely to Korea. They're raising growth capital this month through crowdfunding firms Wefunder and LOHAS Capital.
"Renewables are beginning to play an important part in our energy needs but they are only one of several energy sources," Ford says, hoping Trump sees things the same way.
RIA Channel is hosting a virtual event focusing on ESG investing on March 15, called Invest4Impact. The free, online conference for financial advisors is available for CFP and CIMA CE credits. REGISTER NOW.