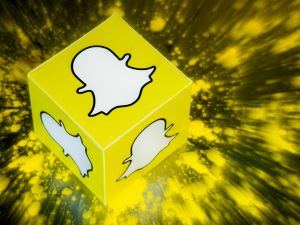 Snapchat goes public on March 2. No one really thinks it is worth what they will pay for it on IPO day. Regardless, some financial product makers are using the social media's launch on Wall Street as a means to convince investors that there are better mousetraps out there to buy Snapchat and other digital companies.
Smallish ETF company, EMQQ (which is also the ticker for their fund called the Emerging Markets Internet and E-Commerce Fund) sent out a note which had some interesting bit of info. Alibaba ([stock_quote symbol="BABA" show="symbol"]) owns a chunk of Snapchat, after investing $200 million in 2015. Conservative (or realistic) estimates put Snapchat's market value at around $2 billion. Investors who are looking to time some Snapchat buzz can either try the low volume EMQQ fund (up 17% this year, by the way) or go after some other social media companies that may trade higher on Snapchat day in New York on Thursday.
The idea here is to buy Snapchat without buying Snapchat. Or better yet, by smaller, popular companies with major buzz by buying the much bigger companies that have stakes in them and stand to gain some profit because of it.
Here's who they like and why:
Didi Chuxing is known as China's "Uber slayer", the ride sharing company that recently bested Uber for control of the Chinese market. You can't buy it. But you Alibaba, Tencent (HKG: 0700[stock_quote symbol="HKG: 0700″ show="symbol"]) and Baidu ([stock_quote symbol="BIDU" show="symbol"]) are its investors.
Paytm is an Indian payment processor. Last year, a government decision to eliminate 90% of hard currency from circulation is seen helping three things: shrink the informal economy and grow the government's tax base; help banking and help Paytm, the leading e-payments company in India. Alibaba is there again, with nearly $1 billion in the company.
Ly.com is a leading Chinese ticket processor and has China's Expedia, Ctrip.com International ([stock_quote symbol="CTRP" show="symbol"]) as a major holder. In 2015, Ly.com bought Wanda Group's tourism division, the largest tourism company in China. You can't buy Ly.com, but CTRP is up 18% YTD on the Nasdaq.
Misfit is a fitness tracker in China. In 2014, JD.com ([stock_quote symbol="JD" show="symbol"]) and privately held smartphone maker Xiaomi invested $40 million and has a small stake in the company. Misfit was sold to Fossil in 2015 for $260 million. JD is up 20.2% this year.
EMQQ is run by Kevin Carter, founder of AlphaShares. Richard Kang, one of the executives behind Emerging Global Advisors, is also on board. Emerging Global was acquired by Columbia Threadneedle in May 2016.